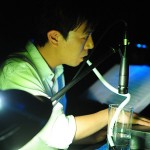 Born in Sapporo / Hokkaido, Japan. Tetsuya Hori started playing the organ at the age of four and started composing soon afterwards. At the age of 12 he began studying the piano and two years later started playing in various jazz ensembles. He started studying composition in Sapporo at the age of 16. Later He moved to Tokyo and continued with composition studies at the Showa University of Music. He graduated in 2001 (at the age of 21), winning the special prize from the university. From 2000 to 2003 he was a lecturer for piano, vocal, chorus and orchestra. After studying at Showa University of Music, he moved to Berlin in 2003 where he lives and composes.
Hori Tetsuya has performed and toured extensively through Europe, Japan and elsewhere, including:
Berlin, Frankfurt am Main, Brandenburg, Halle, Leipzig, Timisoara, Bucharest, Basel, Warsaw, Poznan, Krakow, Torun, Nowy Targ, Tilburg, Tokyo, Yokohama, Sapporo and Seattle.
According to Mr. Tetsuya:

My pieces do not have concept. That is my concept. The concept develops in the head of the listener. I just see my music as a tool that stirs up the minds or consciousness of the people listening. And I get the feedback from listener. The feedback influences my music and the way I see it.




I've never felt that a performer did injustice to my pieces at the concert, for a composition only comes to life in the particular context, the combination of the performer and the atmosphere of the public.




I like to compose not only for instruments, but for "things" as well. Sound of things can be surprising, not only their natural sound but artificial sound too. For example, without looking, one would never guess that my tapping and dragging fingers across the surface of a cigar box or rubber bands that are connected to a laptop for what it is.