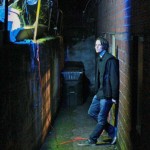 Mangled Bohemians was formed in the fall of 2007 by James Lee and Ryan Shoptaw. By combining psychedelic, folk and experimental textures through space guitars and dark ambient synths. In 2008 the duo was invited to  the 14th annual Olympia Experimental Music Festival where they met Ben Robertson and Andrew Senna of Aphonia Recordings, to which they were  quickly signed. This brought forth their first album "Degeneration" in late 2008 followed by a west coast tour allowing them to join such acts as Tunnels (JOMF), Pocahaunted, Sun Araw, Inca Ore, Date Palms, Molino, LA Lungs, Derek M. Johnson and many more.
Shortly after the tour in 2009 FDH  Records released a split record between Mangled Bohemians and Philadelphia psych legends Lunch With Beardo, and the UK label Reverb Worship re-released "Degeneration" bringing a close to the year. 2010  started again with another tour alongside acts such as The Drug  Purse, Lozen, The Why Because, Psychic Reality, Evan Caminiti (Barn Owl) and many more. The year also saw the band releasing more material in Europe landing songs on compilations in Finlandand Germany, and  releasing another split record with Baseball Camp Nurse on Icky  Recordings.
In the spring Shoptaw decided to leave the band to explore other possibilities, leaving Lee with a difficult task, rebuild the band  or continue solo. With many dates already booked Lee chose to continue performing as Mangled Bohemians by himself. This changed the sound and  dynamic greatly. What once was an Art/Noise group now has become an  ambient, psychedelic singer songwriter act more reminiscent of  Grouper, Kurt Vile or Six Organs of
Admittance. 2011 has seen the release of their 2nd full length record "At the Edge of Earth" and extensive touring throughout the year.
Releases: