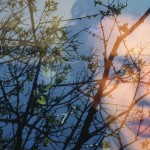 Paintings for Animals is the vocal electronic music of Pearson Wallace-Hoyt in collaboration with & with samples of… Jackie An, Liam Barnes, Chandley Burress, Christopher Clinton, Emrys Crawford, Eric Darst, Hans Estes, Evan Gilman, Spencer Grossman, Bob Hammond, Tom Hanna, Aaron Jenkins, Ky Jenson-Stewart, Ariel Krasik-Geiger, Dmitri Lebid, Patrick McMurchie, Devon O'Rourke, Alexander Porter, Andrew Pierot, Christopher Reeves, Derek Repsch, Aslan Rife, Lyle Rose, Leah Ruthrauff, Michaud Savage, Gus Seixas, Katie Shoepflin, Gavin Steele, Tessa Stifler, Luke Sumpter, Jake Sweeney-Samuelson, Eleanor & Michal Szostalo.
Heavy drones, over-tone melodies & the sound of the land – Paintings for Animals works with field recordings, live radio, mixer feedback, throat singing, vocal blips, clicks & the buzz of electronics. With members dispersing to Bali, Boca Ratone, Kolozberg, New York & San Francisco, Paintings continue to make a truly Cascadian music of chants, ritual noise, and sounds the urban & organic environments.
"Paintings for Animals make hypnotic and gorgeous collages from vocal snippets and field recordings; I had a hard time leaving their MySpace page." -Christopher Delaurenti, The Stranger
"…haunting aural electronic poetics…" -Ricardo Wang, KPSU's What's this Called?
Releases: