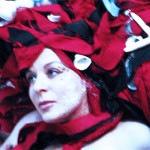 Kelli Frances Corrado comes to Aphonia Recordings a fully formed force of her own. All the tracks are her own but her arrangements boast an impressive line up of very talented performers. Of course it doesn't hurt that you have Scott Colburn on your record as a co-producer. Colburn has worked with Animal Collective, Nurses and Arcade Fire. With a similar tightness and sheen Corrado's work here is supported and her compositions are in no way overwhelmed by the production but fully fledged.
Local music scavengers Ball of Wax have already been making noises about the immanent release of this record and you will know why from the first 10 seconds that leap into your ears. She has also been infiltrating earholes across the pond and as Jane Bradley of UK music blog The Girls Are says Corrado is "dark, atmospheric and enchanting." Her live performances have been described as melancholy and nearly always her short bio includes her past as a wife of a member of the armed forces, clearly her music defines her now far beyond this association. Yes, here music at times mournful, but it also tastes sweet and complex.
Corrado is planning a string of short tours around the west coast the Summer of 2012 and we will be sending updates as shows are announced for it is one thing to enter her world at home, it is quite another to walk into her home, her show and allow her to open the door for you. We couldn't be more excited for Kelli Frances debut on Aphonia Recordings.
Releases: