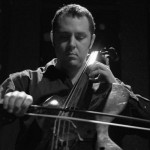 Derek M Johnson is a musician and visual artist from Olympia, WA where he was raised. Primarily he plays the acoustic/electric cello in non-traditional and improvisational settings often as a soundtrack to a hand-made, direct animation slide show of his own creation.
Johnson has worked with numerous musicians during his career, appearing on the records of: Desolation Wilderness (Aphonia Recordings, K Records), Old Time Relijun (K Records), Unwound (Kill Rock Stars), The Strangers, Warhammer 48k and Frequency dB. He has shared the stage with nearly every Aphonia Recordings artist, frequently appearing on stage with Andrew Senna, Ben L. Robertson, L.A. Lungs, Darwinsbitch and many, many more. To see a full listing of Aphonia Recordings artists Johnson has played with, as well as other information click here.
Johnson will be releasing his first ever solo record with Aphonia Recordings in the first quarter 2011. A highly anticipated album, it features Johnson's full palette of abilities. Drawing from no single idiom or source of inspiration, Johnson brings a massive scale to just four long tracks lasting well over 40 minutes in length. Each is a contemplative affair, with great emphasis placed on emotive performance. Johnson is will also appear on the upcoming Aphonia Recordings DVD release of a live score of the 1925 silent classic The Phanton of the Opera. Read more about these releases here.