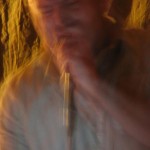 Daedelum is the most recent work of composer Ryan Leeds. Hailing from Spokane, Washington, Leeds is primarily a vocalist, guitar player and software jockey who creates odd electronic music from the confines of a velvet adorned card-board box.
Daedelum currently involves sequencer programming, sampling, guitar, vocals, percussion, and various means of analog and digital synthesis. Leeds is interested in exploring the boundaries of traditional instrumentation and dissecting, reassembling and colliding the parts with electronic gestures and commentaries.
Traces of Ministry and the Art of Noise, along with rockabilly and acid jazz, have all crept their way into the stylistic manifestations of Daedelum. Not without the detour into absurd and atonal areas, the music is aurally diverse and intentionally oblique.
Whilst in the formative years of his musical endeavors, Leeds played with traditional ensembles including rock bands, jazz bands and large choirs; Picking up voice, guitar, bass and some piano helped to establish an early appreciation of multi-instrumentalism and fostered a recording habit that continues to this day. Collaborations with composer Ben Robertson include: Fortune Cookie, The Employees, Blue Girl Quartet, Pubert & The Spooky Boyz, and multiple production projects. Leeds has also joined composer Andrew Senna in many ensembles and for such projects as Sirocco, student film project: The Gutter Sluttz, and theatrical sound productions. Collaborative efforts have yielded pieces ranging from swinging noise-rock to abstract electronic landscapes.
The magnetic vortex that is eastern Washington often inspires feelings of desperation, abandonment, confusion, ignorant bliss, and complete astonishment. This is perhaps reflected in the banshee like howls and tortured vocal treatments that hover over the fractured rhythms and found-sounds of Leeds' Daedelum project. The compositions are informed as much by Leeds' upbringing and education as by his various employment stints. Since attending The Evergreen State College as a music and film student, Leeds has worked as a recording engineer for a books-on-tape factory, a camera and audio operator for broadcast television, a graphic designer, and currently as a CAD technician.
A live Daedelum performance consists of a laptop outputting sampled content while vocals are delivered through a few different input devices with colorful signal paths. The end result has been compared to Tom Jones backed by a noise band performing avant-swing.
Releases: