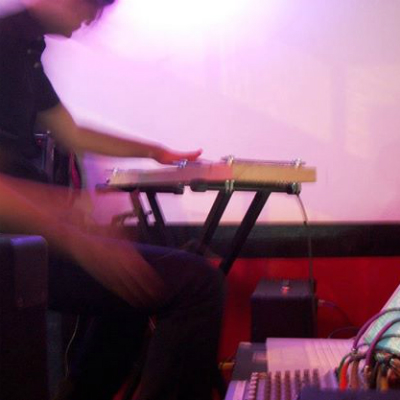 Born into the dry, expansive landscapes of Eastern Washington State (specifically, the outskirts of Spokane, WA); ponderosa pine trees, eerie basalt formations, the dusty taste of summer, vacant lots, boomtown decay, unintentional kitsch, & a welcome sense of isolation are relished by the artist & bear more influence on him than anything else. Ben Luca Robertson is a composer, sound artist, microtonalist, luthier, educator, & Aphonia Recordings co-founder. His work addresses an interest in autonomous processes & biological or topographical themes & systems; often by supplanting narrative structure with an emphasis on the physicality of sound, the use of extended durations (i.e. drones), spectral tuning, & musical structures that occupy the cusp between algorithm and improvisation. As an educator, he has taught courses in composition, electro-acoustic music, recording, & experimental instrument design at Eastern Washington University, as well as regional workshops on pyschoacoustics & tuning.
Recently, the majority of Ben's creative output has been realized through his microtonal chamber group, Dancing for the Flesh. The group is composed of a revolving lineup of musicians & multi-disciplinary collaborators. An important component of this performance model is the use of homemade instruments & software; which Ben designs & constructs for this express purpose. These devices often incorporate found & re-purposed objects (aluminum channeling, metal rods, etc.), electromagnetism, sympathetic resonance, photo-sensors, kinetic interaction, & computer programming (Max/MSP) as a means to actualizing the complex tuning systems he envisions for his pieces. In this sense, Ben's work pays homage to a long line of experimental luthiers, including Harry Partch, Bart Hopkin, Nicolas Collins, & Yuri Landman.
In addition to exploring the upper reaches of the harmonic series, another purpose of creating these devices & software is to foster new modes of performer interaction. Consequently, the use of visual projections, interactive scores, & algorithm-guided improvisation play a significant role in Dancing For the Flesh performances. Other recent projects have included Long Cycles (2014), a sound & moving image installation with digital artist, Jenny Hyde, as well as collaborations with video artist, Lane V. McCabe. Past performances & commissions have included: the Olympia Experimental Music Festival (2008, 2009, 2014), Pritchard Art Gallery (2012), International Noise Conference (2006, 2010), Eastern Washington University Symphony Orchestra (2011), Magma Festival (2010; collaboration with Bill Horist, Derek M. Johnson, Dylan Carlson), Gallery 1412 (2007-2009), & Object Space (2006-2013).
Releases: