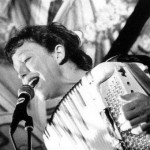 Denio (rhymes with "Ohio" or "gennaio") is a multi-instrumentalist composer and singer based in Seattle, WA. Home-taper since the Dark Ages of Analogue, she started her label Spoot Music in 1986, with the release of her first cassette, "No Bones." Since then, she's recorded & released other cassettes, LPs and 35 CDs created solo and with an array of international musicians.
She has been creating & producing soundscores for dance, theater and film since 1983. She has received commissions to compose and produce soundscores for Berkeley Symphony, Italian National Radio, New York Festival of Song, Die Knodel, Victoria Marks, Pat Graney Dance Company, Relache Ensemble, Run/Remain Ensemble, Jeff Bickford, UMO Ensemble, veteran clown Lorenzo Pickle, and many other inspired artists. She has been a long-time collaborator with David Dorfman Dance, receiving a Bessie Award for Composition (NYC) in for her soundtrack to Dorfman's piece "Sky Down," and premiering new music at Brooklyn Academy of Music "Next Wave" series for Dorfman's piece "To Lie Tenderly."
She has received grants and fellowships from NEA, Meet The Composer, Civitella Ranieri, Seattle Arts Commission, King County Arts Commission, Washington State Arts Commission, Arts Link, Pew Charitable Trust, Artist Trust, Arts International, and from various philanthropists.
She has toured solo and has played with various groups and musicians such as the Tiptons Sax Quartet, Kultur Shock, Francisco Lopez, Danny Barnes, Relache Ensemble, Curlew, Fred Frith, Tone Dogs, Matt Cameron, Bill Frisell, Chris Cutler, Guy Klucevsek, Pauline Oliveros, Pale Nudes, Danubians, Hoppy Kamiyama, Ronin, Il Parto delle Nuvole Pesanti and has played with Chuck D's Fine Arts Militia.
Her collaborative efforts have been seen and heard at Carnegie Hall, the Brooklyn Academy of Music, Seattle Opera House, Detroit Institute of Art, Venice Biennale, Roman Theater Trieste, and on top of 3 Metro Busses in Seattle. She has performed at clubs, schools, prisons and squats throughout Europe and North America, and at jazz festivals such as Moers, North Sea, Earshot, Clifford Brown, Coleman Hawkins, Dusseldorf Jazz Rally, and at other festivals in Sicily, Sardinia, Bombay, Buenos Aires, Belo Horizonte (Brazil), Tokyo and Hong Kong.
She scored Jamie Hook's feature film 'The Naked Proof,' which received honourable mention at its premiere in the 2003 Seattle International Film Festival. She also scored 2 animated films by Thomas Edward; 'Pangaea's Brood' which won 'Best Animated Film' at the 1999 NY Underground Film Festival, and 'Synchrony in Estrus' which won 'Strangest Film' at the 2003 Motion Arts Festival in California.
On New Year's Eve, 2006, her Italian band Quintetto alla Busara accompanied a French circus & artists from Cirque du Soleil in the Piazza del Plebiscito in Naples Italy with 10,000 in attendance, broadcast internationally.