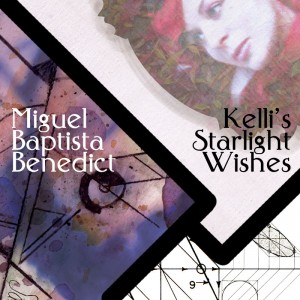 These are exciting times. I really love it when two disparate artists, who live so far apart both come out with two astounding records with near synchronicity. Deviation from expected norms from Aphonia Recordings has become commonplace in the last two years. We have released rock, folk, electroacoustic, experimental, electronic dance, ambient – you name it. Which is why I love these upcoming releases from Miguel Baptista Benedict and Kelli Frances Corrado. They are genre creating, uncovering territory for Aphonia Recordings and for their audiences.
First, there is Kelli's Starlight Wishes, the project title of well established folk-tronic singer-songwriter Kelli Frances Corrado. She brings lilting melodies, broadly painted string arrangements and  just-on-the-gloopy side of cracked open drum machine sequences. "Diamond Matter" is a narrative of sorts, the threads coursing through one track develop in the next. By the end, it is as if the Earth stopped turning and only then heard its heart beat. This all might seem like quaint embellishment and huffery, but this record deserves a listening from start to finish.
Now, Divorce Party is an incredible group and few play with such tightness – a skill with which the band takes as a given – but Divorce Party has a strange glue in it, one that isn't apparent until you start to peel away any member of the group. One such glue constituent is Miguel Baptista Benedict. He is the source of the oft cringed death knell, scream or menacing textures that roam around the few complete breaks between speedy guitar, bass and drums. Credited as "Vocal Manipulation" on their debut EP with Aphonia Recordings entitled "Astrocongertion Opporium," here with "Sa[i]l[e]s" Benedict has head bobbing throbs, languid strings and familiarly outlandish soundscapes.
This, indeed, couldn't be more true for a band that without him, would not have the shrill whine,  robotic seances, much less the space to take a breath in their all too frenetic pace. Benedict's debut solo release is something entirely surprising given this context.
This new record, entitled "Sa[i]l[e]s," is in fact, a roving collection of poems. Not verbal ones mind you but aural poems. Here, as in Corrado's "Diamond Matter," strings languish and sneak around oblique arrangements of bass tones and bursts of synaethesic fizzes and thick drizzles. This record demands acute attention. It's  subtlety is apparent both in it's penchant for head bobbing distraction, to viewing near death precipices. Yes, again, grandiose. Why shouldn't it be? Benedict carves new sinews into what a song structure could be. He is a futurist of pop, although his music carries non of the trappings and tired commercial linguistics of an already dead language.
The beautiful coincidence here is that Benedict and Corrado share something. They share an aesthetic reality, one that once immersed you will not want to leave.
More on Kelli Frances Corrado:
Kelli Frances Corrado is Kelli's Starlight Wishes. She comes to Aphonia Recordings a fully formed force of her own. All the tracks are her own but her arrangements boast an impressive line up of very talented performers. Of course it doesn't hurt that you have Scott Colburn on your record as a co-producer. Colburn has worked with Animal Collective, Nurses and Arcade Fire. With a similar tightness and sheen Corrado's work here is supported and her compositions are in no way overwhelmed by the production but fully fledged.
Local music scavengers Ball of Wax have already been making noises about the immanent release of this record and you will know why from the first 10 seconds that leap into your ears. She has also been infiltrating earholes across the pond and as Jane Bradley of UK music blog The Girls Are says Corrado is "dark, atmospheric and enchanting." Her live performances have been described as melancholy and nearly always her short bio includes her past as a wife of a member of the armed forces, clearly her music defines her now far beyond this association. Yes, her music at times mournful, but it also tastes sweet and complex.
Corrado is planning a string of short tours around the west coast the Summer of 2012 and we will be sending updates as shows are announced for it is one thing to enter her world at home, it is quite another to walk into her home, her show and allow her to open the door for you. We couldn't be more excited for Kelli's Starlight Wishes on Aphonia Recordings.
More on Miguel Baptista Benedict:
A Michiganer,  noise artist, vocalist and singularly talented musician and composer, Benedict first made an appearance in the Aphonia Recordings catalog with last year's "Astrocongertion Oporium" by Divorce Party. After a recent stint living in Los Angeles he produced perhaps his most accessible compositions to date.
Formerly, of noise duo Puberty, and collaborative project with Craig Johnson of Laserbeams of Boredom, Benedict originally began his music career learning the trumpet and quickly transitioned into experimental and noise music. Benedict is a singular talent and source of energy as a musician, composer and friend of Aphonia Recordings.