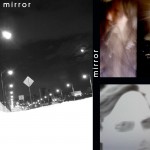 Welcome Mirror Mirror! Primarily composed of guitarist, songwriter Jason Campbell of Olympia, Washington, Mirror Mirror's sound is drenched and stained in melancholy melodic figures and shadowy lyrics.
Available now is Mirror Mirror's debut on Aphonia Recordings. For only $0.99 you can download the two track mini EP. Click here.
All Mirror Mirror songs are recorded at home in Olympia, Washington by Jason Campbell. The approach is about solid and melodic songs, the sound is about creating a soundtrack for the night, with Psychedelic, Post-Punk, and Dramatic themes. Mirror Mirror has been influenced by everything from Ennio Morricone to 60′s Psychedelia to The Brian Jonestown Massacre.
Campbell has been a steady musical presence in both Olympia and Spokane, Washington. He has played with the bands Mynx, Fairfax, Airshow and The Nerve among others. Active for many years, Campbell joins the Aphonia Recordings cohort with a series of digital singles, all available for free from Mirror Mirror's Bandcamp website. Have a listen in the meantime: