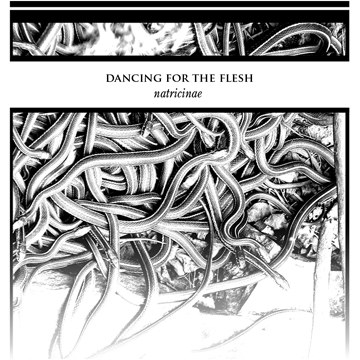 Natricinae is the first official release by Aphonia Recordings co-founder, Ben Luca Robertson's microtonal chamber group, Dancing for the Flesh. The group is composed of a revolving lineup of musicians & multi-disciplinary collaborators. The roster for this recording features vocalist & multi-instrumentalist, Amy Denio, Emily Pothast (voice) & Timm Mason (aka Mood Organ; bass) of Midday Veil, Riding the Slow Wave of Death's Jackie An (violin), Ian Ackerman (violin) & Gabriel Will (viola) of Problems, Emma Mortensen (violin), Derek M. Johnson (cello), & Nathan Westlund (cello), as well as Ben Luca Robertson performing on an array of homemade instruments, electronics, & interactive software; which he designed and built for these pieces.
A collection of three chamber-drone pieces (recorded over the last five years), Natricinae merges the composer's interest in spectral music, 'just' tuning systems, & autonomous processes with distinctly biological themes, such as taxonomy & regional herpetofauna (A glance through an Auduban field guide sheds immediate light to the track titles: Thamnophis sirtalis, elegans, & natricinae). As is the case in much of his work, Robertson addresses these subjects by supplanting narrative structure with an emphasis on the physicality of sound, the use of extended durations, & musical structures that occupy the cusp between algorithm and improvisation.
Perhaps just short of channeling the cantankerous specter of Harry Partch – all be it, by way of transducer & algorithm – Robertson's obsession with charting the upper reaches of the harmonic series necessitates the creation of new instruments and approaches to performance. Consequently, instruments constructed from re-purposed aluminum channeling (i.e. The Alumi-tone), steel strings & rods, electromagnets, digital projections, and resonant spaces make their way on to this recording.