We are pleased to announce that Agnes Szelag's debut Aphonia Recordings release, 'No Summer or Winter' was recently reviewed by online publication, 'Textura'.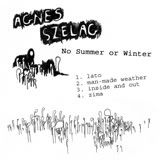 click here to preview tracks / purchase this release.
Agnes Szelag is a composer, performer, and video/audio installation artist. Her work explores the cognitive and aesthetic relationship of sound and visual media in chosen environments. In performance and composition she creates interactive schemes that ride the line between composition and improvisation. Agnes is a Course Director at Ex'pression College for Digital Arts, received her MFA in Electronic Music and Recording Media from Mills College, and her B.S. in Radio/TV/Film from Northwestern University. Agnes resides in the Bay Area, CA.
Agnes has performed and collaborated with Marielle Jakobsons (as myrmyr), Norman Teale (as dokuro), Fred Frith, Pauline Oliveros, Curtis Bahn, James Tenney, Terry Riley, Maryclare Brzytwa, Chris Brown, Ben Bracken, Gregg Kowalsky, Aram Shelton, Steini Gunnarson, Ava Mendoza, Abe Dichi (as comfort food), Moe! Staino, Phillip Greenlief, Double Vision, Capacitor, and many others.
Her work has been featured in the Electronic Music Midwest Festival, the Illuminated Corridor Festival, 60 x 60, Voices on the Edge, at the Stone in NY, and has been broadcast nationally on KQED for the show Spark. She has also executive produced numerous video pods that have aired nationally on Current TV. This fall she will be playing in the San Francisco Electronic Music Festival as myrmyr.