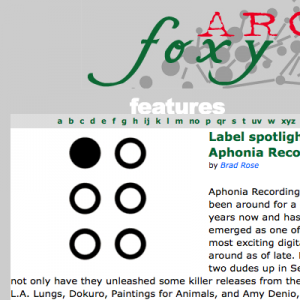 Ben and I do a lot of legwork to keep the pulse of this label strong online and elsewhere. Press doesn't hurt and it doesn't necessarily come easily. Lately, we have definitely been lucky with coverage locally as well as nationally. The Stranger recently covered our last show, The Phantom of the Opera at the Gallery 1412 and we have been looking into our distribution options for that – we are looking to do a January release.
We have also been fortunate enough to catch the eye of local blogger writing for Illusory Confections and now Mr. Brad Bird of online mag Foxy Digitalis has an exclusive interview with Ben and I which you can find here. I also might add that our local friends and Aphonia Recordings alums L.A. Lungs are featured on Foxy Digitalis as well. I highly recommend going to Foxy Digitalis to check out this interview as well. And don't forget darwinsbitch also has a limited run (only 100!) cassette up now that you can purchase there. Whew! Hooray for Foxy Digitalis.
In other news, Ben and I will be transferring our AphoniaRecordings.com domain to a new web host – so there will be outages this coming week. Hopefully by Xmas all will up again and everyone can marvel at our new speed and slickness. Actually the site wont look at all different, it will just hopefully work better. There will be some cosmetic changes on the way, which to most of you will be transparent. I will post another outage reminder probably tomorrow as that is when the process is most likely to begin.
While it gets strangely cold here in Seattle and the snow continues to stick to the ground, I wish all of you the best of times as the shortest day of the year inevitably approaches.