We are pleased to announce the release of Aphonia Recordings' first CD compilation! Copies will be available for sale at our next showcase (Friday, March 7th). The compilation will feature choice tracks from: Marriage + Cancer, Desolation Wilderness, Giant Expanding Pictures, KRGA, Daedelum, Andrew Senna, Unicorns in the Snow, Planar Defecs, Myello, Darwinsbitch, & Ben L. Robertson. Come out, support our artists, and buy the comp!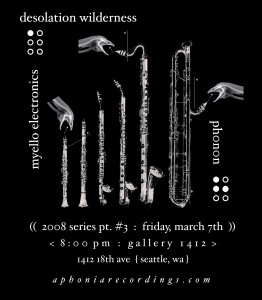 Desolation Wilderness is Nicolaas Zwart. This project has changed gradually in focus from the simpler, synthesizer heavy, beat driven songs of its first netlabel releases on AudioTong and Test Tube to a more processed distillation of ideas concerning song structure and electronic noise, as show by later work released on Benbecula, K Records, and Aphonia Recordings. Currently, Desolation Wilderness draws influence from grainy film soundtracks, '50's and '60's radio pop, and INA-GRM musique concrete. In performance, Desolation Wilderness has evolved from a solo laptop setup to its latest incarnation as a live ensemble.
Myello Electronics is the project of Olympia based composer Daniel Farrell. Many divergent influences have inspired myello to create music, which often hints at a wish toward dance, while being motivated by an interest in textures and awkward composition that somewhat undermines that aspiration. Farrell understands the compositional choices he makes to be informed and influenced by chance events, improvisation, societal pressures (the clutter of modernity), consumer electronics, credit cards, disposability, mercury, and plastic bags.
Founded by Adam Reza & Chris Hanis, ph0n0n creates soundtracks with elements of microtonality, chance processes and live improvisation. Aphonia Recordings recently welcomed Ph0n0n to the label and we are greatly anticipating their debut release.